Riders' Reports...
---
Yamaha XS250
SOU 312S, a silver example, first appeared on a front drive a few streets away, having been replaced by a CX500. The XS250 was in a poor state when parked, several months rain took its toll and each time I passed the house with the dog, it looked worse, but I still thought it would make a good replacement for my Suzuki GT185. When I finally found the owner at home, on the sixth attempt, he said I could have it for a tenner as it was only fit for scrap. The only good points were a decent pair of Roadrunners, the rest was dog rough....the motor was solid so I convinced myself that the kickstart was at fault. Removing the right-hand engine cover revealed a perfect kickstart mechanism, the damn primary gear would not turn. Left-hand cover off, the alternator would not budge either. Off with the cambox cover, the camchain had to be sawn through, the head removed to reveal the left-hand piston melted into the bore. The piston was eventually freed from the bore using impact technology. An engine was purchased from a breaker which had a sound top end and the best bits of each engine were combined, complete with the odd helicoil and bodge. The frame and cycle parts were resprayed, both discs skimmed, a caliper replaced from the local breaker along with many other items and a wheel not about to crack up installed. It looked really great when reassembled. I liked its simple lines. It was a very straightforward piece of design work - a SOHC vertical twin with pistons moving up and down alternatively, not a balance shaft in sight. It had convention twin rear shocks, cast alloy wheels, discs at each end and an air of ruggedness. It spluttered into life but was obviously not right. The carbs were cleaned out but the main bearing and big-end shells were making a bit of a row, so these were replaced and the motor reassembled again. It ran nice and quiet, passed the MOT first time. First problem was an unreliable tickover, the bike needed much fettling every 100 miles as the timing kept going out. Performance was not startling. Although it could be run along at low revs the power didn't start to appear until the upper reaches of the rev range, and even then it would not pull your arms out of your sockets. Top speed was somewhere around an indicated 90mph, it was much happier cruising at 70mph, where it would buzz along all day without much of a care in the world. Handling on worn suspension was fair, it never seemed likely to throw me off in the curves and save for the odd being of weaving or wobbling when the road surface deteriorated was stable enough to be pleasant on motorways. I never rode the bike to extremes as I wanted to maintain my grip on life. After about 1500 miles I dropped the bike exiting the M4 roundabout with my teenage son on the back. The shame of it. Cuts and bruises, ruined jacket and scrapes on the bike. I couldn't even have a good swear with the lad about it. The gear lever was bent and jammed but the following cars stopped to assist and get the bike off the road. A borrowed Stillson wrench straightened out the gear lever and the motor fired up okay. The cause of the fall was an oil slick. I fixed the bike up easily enough but I had lost confidence in it. An Avon Supreme front tyre and a new set of headraces helped instill some bravado in my riding. The points kept wearing out rapidly and I had to retime it every weekend - I thought this was only necessary on old British iron - but at least the miles were piling up. I was doing 1500 mile oil changes with a new filter at 3000 miles. The chain was washed in petrol/paraffin then boiled in Linklyfe every 1000 miles, sprayed every weekend, along with a couple of strokes of the grease gun to the two swinging arm nipples. Both sets of pads were dismantled every service and reassembled with Copaslip. EBC pads were an early improvement and covered 5000 miles before being transferred to the rear with the new set on to the front. At 31500 miles, 7000 on the rebuilt motor, I bought a new engine from a school that had been given two by Yamaha for a project. At £100 it was too good to miss. It still had the need for frequent ignition timing adjustments. Piranha ignition at 36300 miles gave a much crisper motor with better throttle pick up. Plug gaps had to be closed to 0.025 to cure a cold misfire at tickover. A few weeks later I replaced the other Roadrunner. The Supreme on the front was placed on the back and a Michelin M38S was fitted to the front. The Roadrunners did about 5000 miles each, the front Supreme had done 7000 miles without significant wear. The bike was really running well, I believed the problems were behind me and I could start planning some long runs without the need for constant maintenance. Comfort was okay for a 100 miles at a time. The seat was the first to give problems, not helped by an imperfect body posture resulting from forward mounted footrests. If you wanted to ride flat out for long distances the bike would quickly become very tiring. I was able to swap from four to two star fuel with no ill effects once the electronic ignition had been fitted. The bike averaged 80mpg which I though very reasonable, even a hard ride down country lanes didn't dent it too much, with 72mpg being the result. One up for lack of balance chains, eat yer heart out Superdream owners. One dark and rainy night in March '89 as I'm plonking back from Salisbury across the plain, doing about 50mph along a nice curvy bit the bike loses power.....the rear disc had seized on. Slackened off the master cylinder pushrod, the brake freed off and the journey home continued. A weekend strip down revealed a soft seal ring and some corrosion on the piston. A new seal and polished up components appears to have solved the problem. Some useful suggestions for users - Motocraft Ford plugs (AG22C) work fine, cheap against NGK; Ford 15W40 oil, good and cheap; Piranha ignition, well worth the money; Avon 180 Supreme tyres, good grip, last well and inexpensive, M38S ditto; EBC pads much better than stock; Baja foam grips soak up the vibes nicely. To conclude, if you are prepared to invest a little time to maintain and service the beast I don't expect anyone to be disappointed in an XS. Cheap and cheerful with a plentiful supply of parts, both used and new, you can still pick up a runner and another for spares for next to nothing. Worth looking out for. Derek Anstey
Return to Contents for Yam twins
---
Yamaha XS400 DOHC
I'm an avid air cooled four stroke fan, so when I saw the little Yamaha I fell for it. You don't see many around and it should not be confused with the fairly awful OHC version. My bike has a nice lump of DOHC vertical twin alloy engine held in a spine tyre frame with monoshock rear suspension, Styling is neat, surely the best looking air cooled twin? The bike already had 20,000 miles on the clock when I bought it. I knew the previous owner well and felt sure that it had been well looked after and mildly used. £300 changed hands, not too bad for a B reg machine. There were some problems. The most noticeable shot front wheel bearings allowing half an inch of side play. Even so, I was still able to ride it home and the bike was light and flickable. Also in need of replacement were the exhaust (an £80 Motad saw to that) and a badly split seat - it had a plastic base and I was able to fix it with a combination of vinyl and a staple gun - plus a £30 sprocket set and a new front tyre while the wheel was out to replace the bearings. The most impressive thing was the handling. With a set of Metzelers on it could be leant over to quite wild angles without anything touching down. That combined with a responsive motor meant that through the curves it could actually keep up with a mate's LC350, much to his annoyance. The bike pulls like a particularly pokey single up to 5000rpm and shifts like a bigger bike from then on. You can potter around in a relaxed way or scream the engine to the redline and burn off mild middleweights like GS550s. Where heavyweights have to slam on the brakes and back off the power, the XS can be hurled through bends with nary a moment of concern, thanks to a stiff frame, good suspension and the excellent tyres. The suspension soaks up most of the bumps with ease and never lets the bike get seriously out of line. The rear monoshock is very similar to that fitted to the DT400MX and, indeed, combined with a seat that perches you on the bike rather than in it, the XS often feels like being sat upon a big trailster. Braking isn't perfect. A caliper design shared with the LC ensures that. It has a bloody awful pin which hold the pads in place, it takes a week's soaking in Plus Gas, a blow torch and an allen key attached to a socket wrench to remove the damn thing. Thank god there's only a single disc to maintain, two of the things would have me rushing out to buy a sledgehammer. Wheels are cast in a not particularly attractive eight spoke pattern, but at least Yamaha resisted the temptation to fit a rear disc; instead there's an excellent drum brake that combines the necessary power with lots of feedback. In 10,000 miles there have been no engine problems. It never uses any oil, although I change it religiously every 1500 miles and the filters every 3000 miles. I use vacuum gauges to set the carbs myself every 5000 miles and had to do the valve shims once, after 6000 miles. Other than that, nothing needs touching, the camchain tensioner's automatic and the ignition trouble free electronic. My only concern with the electrics was that the self cancelling indicators stay on for a little too long in town, but they are fine on motorways and the like. I did notice that the brake light only worked off the front brake. Neither the excellent headlamp bulb nor the twin bulb tail light have blown and general vibration levels are low enough to make them not worth writing about. Running costs are very low. Even the rear tyre lasted for 10,000 miles and the front didn't seem to wear. Chain and sprockets have done 10,000 miles and only seem a quarter worn out! Rear brake shoes are probably still the originals judging by the lack of wear and I haven't had to replace the pads yet either. The bike does not disappoint on fuel economy, either. It's possible to better 75mpg if ridden mildly but still fast enough to see off most cars. I have never got worse than 60mpg and it's very easy to do 65mpg, giving a range of around 200 miles before hitting reserve. The Yam has been used to commute back and forth to work 50 miles a day, six days a week, and also for weekend work that often involves doing 200 miles in one sitting. The bike takes everything in its stride, although it obviously won't give the same grin inducing acceleration and ton plus excess of the 600cc race replicas, it has a nice balance of qualities that must appeal to anyone who uses a motorcycle as his or her sole means of transport and wants enough stomp to keep the fun factor going. The only real question about the XS400 is just why Yamaha never promoted the bike or imported more than a few into this country.....could only be it cost too much. G.D.Jones
Return to Contents for Yam twins
---
Yamaha XS250
''Look, mate, I don't know anything about the heap, I just want it out of garage, like yesterday.'' There were worse ways of being introduced to a used motorcycle, at least it promised cheapness. The bike turned out to be a Yam XS250, covered in rust and refusing to start. He was vague about how much he wanted, so I offered fifty quid, eventually settling on £70. It was a long push home, but a little less hassle after I'd removed the front caliper and drive chain, both of which were later to be found beyond help; no great surprise there. The rest of the chassis looked in just as rotten a state, but to my surprise responded well to my cleaning efforts. The engine turned out to have no spark at the plugs. Something was very definitely getting through to the HT leads judging by the shock they gave me. It reminded me of my mate's highly illegal stun gun, which put out a 6000 volt shock. He amused himself by attacking stray dogs, they usually ended up on their backs, twitching wildly, kicking their paws in the air. The shock from the Yamaha was not quite that bad, but it persuaded me that a new pair of HT leads, spark plug caps and plugs were necessary. Once these were fitted, after about fifty kicks, the motor finally stuttered into life on one cylinder. A bit of frantic effort with the choke and throttle turned the engine into a twin, albeit a rather reluctant one. The smoke out of the rusted exhaust finally cleared and the engine settled down to a 1250rpm tickover. Next tricks, track down a used caliper and buy a cheapo chain. The first outing was startling for the sogginess of the ride and the paucity of power below 6000rpm. Wringing the engine's neck finally extracted some go but it felt more like a restricted 125 than a 28hp OHC vertical twin. I thought, what the heck, at least it was still running without any nasty noises. Beggars could not be chosers. The first weekend I was ready for a gentle amble from London to Birmingham and back. Minor roads all the way, naturally. The Yam had other ideas, refusing to start for half an hour until I took the plugs out and warmed them in the oven. Once clear of the great city, we settled down a reasonable 70mph along some deserted A-roads (it being only six o'clock in the morning). The first trauma was running on to reserve only to find that it didn't work. Much shaking of the bike back and forth put just enough in the main tank to get me two miles down the road to a deserted petrol station. The owner rolled up ninety minutes later and hoped I hadn't been waiting for too long! About fifty miles later, the second problem turned up, the bike cutting out on the right-hand cylinder. Riding a 25mph, 125cc single didn't exactly fill me full of the joys of life. Combined with the wrecked suspension, it made for some wild wobbles through the bends when the second cylinder chimed in. I poked around at the HT leads to no avail, but after ten miles of anarchy it started to run properly again. The handling was predictable in that every time the front wheel hit a bump it would cause the Yam to bounce all over the road. I had already noted a little play in the swinging arm bearings, so was not surprised to find the back end joining in, especially in the bends. There was nothing especially frightening about all this, it was just a matter of keeping hold of the bars and piloting the heap through the worst of the shakes. Birmingham eventually came into view at about midday. My body was in a pretty wretched state, I had to stagger around the city centre for about an hour before I fully recovered. The Yam refused to start when I returned and there was no-one I could ask to borrow an oven. It took about two hours of wandering around to find a bike shop that stocked a new pair of plugs. I wasted another hour when I found I'd forgotten to pack the spark plug socket. With new plugs fitted the motor fired up first kick and I collapsed with relief over the bars. It was nearly five o'clock by then and I would have to ride home part of the way in the dark. The first bit of the journey, around 70 miles, was a breeze, with the engine running with remarkable eagerness at the top of its rev range. With a bit of a following wind, it was able to put 90mph on the clock with no sign of any strain. When I switched the lights on, one cylinder started cutting out again. As darkness fell I was not amused to find that the lights were pathetic, hardly fit for warning other drivers of my presence. I was down to a 25mph crawl for most of the journey. Eye strain soon set in, making me imagine there were dead dogs in the road and nearly running off the tarmac when blinded by oncoming vehicles. By the time I reached my abode, the rear bulb had blown - the first I knew of it! The next day I found that the bulb hadn't actually gone, one of its wires had fractured in half and I was lucky it had not shorted out on anything. This led me to the conclusion that rotten wiring was affecting the ignition circuit. An afternoon was spent putting in some new wires, but it also revealed a battery full of white corrosion, so more money was blown on replacing that. I was beginning to think it was impossible to win. I was encouraged by the way the engine roared into life first kick. On the test run everything was fine, so it was time to use the bike instead of public transport for getting to work. The next morning I ambled down to the XS - yes, you guessed, refused to start until I did the spark plugs in the oven trick. Luckily, I made up time on the run into work so didn't turn up late. Dinner time I bought a new set of plugs in case they were needed in the evening. Plugs with a life of less than a 100 miles was going to work out expensive. Typically, the damn thing started first kick. It ran out of fuel again, but I was near to a petrol station this time. Economy worked out at around 65mpg, which, as I was thrashing the machine most of the time, was okay by me. That night I took the petrol tap apart and cleaned out the crud in the mesh on the reserve half of the tap. It was still dangerous, though, reserve not good for more than five miles, but it was better than nothing. For a couple of weeks the engine settled down, starting from cold reliably and not cutting out on the road. After a really vicious rainstorm all the hassles came back. Three days later not even new plugs could persuade the engine into life. I simplified the ignition wiring and put in a pair of car coils, not willing to pay the ridiculous prices demanded by the Yamaha importer. It was still a reluctant starter from cold but ran reliably enough once warm. My problems didn't end there. The suspension had become even more worn, the wobbles threatening to throw me off each time I tried to run the bike through a bend. New swinging arm bearings helped but it was the forks that were in a really bad state. The stanchions were pitted beyond help, the fork seals long since dead and the springs so soggy that all the travel disappeared as soon as I sat on the bike. An RD front end with a similar wheel was on offer at the breakers for a hundred notes. After I'd explained that this was more than I'd paid for the XS, he let me have it for sixty quid and threw in a pair of shocks off an XS400. I had some fun and games fitting them but it was worth it. I can't say that the XS felt like a thoroughbred but most of the wobbles had disappeared and it actually felt safe to lean more than a few degrees off the vertical. If anything, it was a bit too stiff, giving my spine a real going over when the road turned very rough. I could live with that in exchange for the improved handling. The next few months went by without any spectacular incidents, although I was not too overjoyed to find that the new battery had boiled itself into a premature death. Then I had an accident. I had perhaps become overconfident, as the RD's disc was brilliantly effective, compared to what I was used to. I had developed a spectacular cut and thrust technique in town traffic that drastically reduced my commuting times whilst giving indignant car drivers heart palpitations. One of these cagers did an unexpected right turn that not even the most powerful front brake in the world would have avoided. The result was that the XS's front wheel was embedded in the side of the car and I was thrown off the bike with such force that I cleared the offending cage to land on top of some other poor fool's roof. Judging by the size of the dent my helmet left this absorbed most of the shock. I was a bit dazed but still coherent enough to refuse to go to hospital for a check-up, much to the annoyance of the ambulance crew and police. The car driver reckoned it was obviously my fault for riding down the middle of the road at an obscene speed. I protested my innocence, naturally, but have to admit I was doing 50 to 60mph! The XS had wrecked its front end but was otherwise okay, so after all the details were taken I let the AA take the wreck home. There I put on the old front end and decided to sell the bugger before it did me a permanent injury. I was lucky, insurance rates had just shot up to ridiculous levels for the big stuff, making 250s suddenly popular. I put the XS up for 350 sovs and was deluged with desperate phone calls. Had no problems off-loading the Yam, despite the way it shook its head and wandered all over the road. I didn't feel the least bit sad to be shot of the heap. Terry Collins
Return to Contents for Yam twins
---
Yamaha XS400 DOHC/span>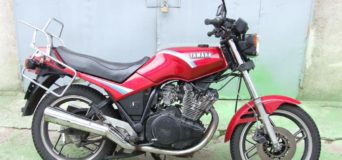 Return to Contents for Yam twins
---
Yamaha XS400
For some reason, every time I started my Yamaha XS400, dogs went crazy. I mean really mad. They would hurtle themselves at the bike, leap over fences or come bounding down the road, fangs barred in a frenzy of hatred. Starting was often difficult, needing an excess of desperate kicks and the engine would often stutter for a few moments then go dead. Fortunately, I wore strong motorcycle boots and could kick any mangy canines in the head without worrying about losing chunks out of my shins or catching rabies. I even had one dog test the XS's stability by charging head-on. I rode over its head with a lurid lurch that left the bars shaking wantonly for next 100 yards. A glance in the mirrors revealed a decapitated dog and some eager beaver of a ped trying to write down my number. I say trying because I always left the back end covered in mud. The XS became even more of a truculent starter if there was any water in the atmosphere, let alone rain. Spraying everything with WD40 helped a little but I often ended up kicking away for half an hour. The electric start had long ago burnt out. I'd rewired the ignition directly so there was no way anything could short out. XS400s are infamous for their starting hassles and become worse with age. Once on the move they are not much more inspiring. For a 400cc vertical twin there's not very much guts. I have trouble staying with Superdreams and something like a GPz305 disappears off into the distance. If there's a hint of hard power above 7500 revs there's also lots of vibration. The engine lacks any balance shafts but is smooth at lower revs. It may've been better when new, but I've had the bike for two years and 23000 miles and it hasn't gone any more vibratory in that time. The mileometer now reads 45000 miles. The XS will just break the 100mph barrier. Just, as in down a mile long hill with a following wind. Really, trying for more than 80mph is too much work and the slightest obstacle will need a change down two gears and loadsa throttle work. The numbing vibration makes me think that the engine is about to explode, although against all the predictions it's survived almost completely intact. Mostly, I think, because I change the engine oil every 500 miles! 70mph cruising is about its limit. I'd fitted cow-horn handlebars to aid town riding as I found the stock bars hurt my arms after fifteen minutes in heavy traffic. The replacement bars were very painful at 80mph, and above, leaving my shoulder muscles feeling like I'd been on the rack. That was okay as 90% of my riding was in town or down slow country roads. The wide bars were an aid to controllability because the XS had more than a passing resemblance to a tea-trolley on occasions. I always took great pride in fitting the cheapest of half worn tyres I could find, which were usually of Far Eastern or Russian provenance. I was often given them for free. The XS's chassis is not the most robust in the world, didn't take kindly to my neglect in the rubber department. Some lurid slides on wet roads made the daily commute through the grime infested East London district far from boring. I sometimes ended up twisting the bars in one direction whilst going in the other. A set of airhorns encouraged car drivers and pedestrians to get out of the damn way, as did the knowledge that the old rat was worth next to nothing and in the event of an accident could be kicked straight without any worries about the cosmetics. This made the daily commute free from worry and full of a malicious kind of fun. The only worry on wet roads was that the spray kicked up by passing lorries would engulf the engine, causing the motor to stop dead in its tracks. This invariably happened right in the path of sadistic cagers, who would bear down on me, beaming with repressed violence, expecting me to do a complete disappearing act. Hitting the airhorns brought them back to reality and gave me the precious seconds I needed to push the bike into the gutter. Where I'd spend between 30 seconds and 30 minutes trying to kick the heap back into life. The XS has points ignition which can go way out, but even when set perfectly still allows the starting conundrum. The timing can go so far out, in as little as 250 miles, as to make the power drop off to the point where no more than 50mph is possible. It does this trick best when pattern points rather than originals are fitted. I had one set of points wear out in 3000 miles. It also pays to put in new spark plugs every 1500 miles. Similarly, all hell breaks loose when the silencers corrode past a certain point. Lots of backfiring, huge flat spots and a noise that gave even me a headache after a few minutes. Being a bit mean, I naturally ran the bike until the silencers fell off and then tried various rotted two into ones before a pair of universal silencers, bigger main jets and a chucked airfilter more or less sorted out the carburation. The whole chassis was susceptible to rusting. If it was made of steel then it was going to go back to dust. I always kept ahead of the demise by buying cheap used parts when they became available. As most of the bits are common with the XS250 there are plenty of parts, even whole bikes, around for next to nothing. The alloy didn't actually fail, but took to itself a protective layer of corrosion. Some of that corrosion seemed to have reached the gearbox by 40,000 miles. The six speeds were reduced to four or even three gears on some occasions. It was preferable to take off in second, third was okay but then it was a race to obtain top gear as soon as conditions allowed. Fourth and fifth would both disappear if a little bit of throttle was applied. Changing down the box was open warfare, as well as a multitude of false neutrals the box would occasionally lock into gear. This all proved highly fascinating on a particularly blustery day. As well as trying to find a working gear I had a howling gale attacking the XS from the side. It should be mentioned that I'd fitted a huge top-box to the rack, which hung way out over the rear. The XS, on its skinny, worn tyres, was soon wobbling all over the place, with the power snapping in and out as the gears disappeared and the roaring wind caught the bike. The Yam weighs about 400lbs but that day it'd felt like a 100lb moped. When the wind turned and we were battling into it, petrol dropped to an amazing 35mpg, leading to me running out of fuel in the middle of the countryside. It was one of those days, when I wished I'd never got up. Pushing the hunk into the wind it felt like a bloody Goldwing, not helped by an ancient chain, half deflated tyres and sticking calipers. I could usually rely on 55mpg and well over 100 miles before desperately searching for a petrol station. Running out of fuel was almost as embarrassing as the one time I had a mechanical failure. Admittedly, I was, for once, caning the engine at 85mph in fourth and pretending to ignore the tremulous vibration. It attacked every component on the chassis, as well as the whole of my body. I wondered where it was all coming from. The next thing I knew there was a rat-tat-tat from under the petrol tank. It sounded serious, so I backed off but it didn't go away. Then there was loads of smoke out of the exhaust and lots of mechanical carnage inside the engine. Two days before I'd joined the AA who turned up quickly but then made me wait an hour for a trailer. Oh well, I got my money's worth out of them. After extracting the motor, the trouble was traced to a dropped valve, it'd also wrecked the piston. I already had an excess of bits, so the cost was minimal. I also replaced the selectors. That was at 43,500 miles and the bike has bowled along for a further 1500 miles without any pain. The best thing about the XS400 is that it's cheap. I run mine as a '250' (I bought a crashed one for £25) to cut down on tax and insurance. As a motorcycle it doesn't amount to much and wouldn't last long in my garage if I was rich. You can buy something that's running for under £200 and find out the true story for yourself. L.M.
Return to Contents for Yam twins
---
Yamaha XS400 Special
I'd owned the XS400 Special for five years. Rumour was that it had started out as a 250, but both models were basically similar, sharing most chassis parts and the same OHC twin cylinder design. It was still a neat looking bike but the clock read 63000 miles, about half of that under my own hands. At this poiint in the bike's life I decided it was an ideal hack on which to tour Britain for a month or so, a tent strapped on the back and a song in my heart. I wasn't to know it at the time, but this was going to be the XS400's final journey. The little Yam had proved a worthy rather than remarkable motorcycle. Mild use, which included cruising at 70mph, gave 65 to 70mpg, even thrashing the thing turned in 60mpg from an engine that'd been rebuilt just before I bought it. The previous (and first) owner had gone on at length about the modified electrics, non-standard coils and leads, and some still sticky black gunge over every exposed bit of electrical hardware. All, apparently, necessary to ensure consistent starting. As usual, that early June morning, the motor chuffed into life the first kick with its distinctive off-beat note only marginally muted by the 2-1. It was a nice friendly noise that became a hard snarl at 6500rpm, the point where the power flowed in. Reports have accused the XS400 of being gutless, and it's true at lower revs there's not a lot of torque but the engine was clean running and quite capable of keeping ahead of the cages without entering the powerband (worth doing for the 70mpg economy). The motor will rev to ten grand but I usually changed up at around 9000rpm, when power in the taller gears was beginning to tail off and there were a few safe revs in hand for when the gearbox found a false neutral......the box had worn as the miles piled up and only an experienced foot could control it. Roadrunner tyres and tightened up suspension, along with a complete new set of chassis bearings at 48000 miles, kept the Yamaha in shape on both fast main roads and down the back lanes. Weighing only 375lbs meant it was easy to control. Worn tyres, bearings or suspension could make it flap around a bit and I even had the odd tank-slapper, which was mind blowing the first time it happened. It made sure I kept the bike up to scratch. With lots of camping gear compressing the rear shocks, the bars felt loose in my hands as I pushed the XS up to an 80mph cruising speed. I used to happily cane her along at 90mph but age, vibration and a slight loss of high rev power precluded such excess. I could take it to the ton when necessary for overtaking, an engine in excellent fettle capable of pushing her to 110mph. This loss of top end go wasn't the end of the world, the riding position was mildly cruiser and the motor offered a relaxed feel at 80mph. It wasn't one of those engines that insisted you cane it to death. A 200 mile drone up the M1 came and went, with just a quick stop for fuel. Every gas stop I had a quick glance at the oil, the motor had always gulped it down and could half empty a sump in 500 miles of hard riding. Leaks, except when the gearbox seals went (every 8 to 10,000 miles), were marginal smears on some gasket surfaces, so it must've been burnt off, although the exhaust was never overwhelmed with black smoke, the odd puff on the overrun the only evidence that the valves were maybe on the way out. The XS250/400 engine was a relatively simple design, lacking the balancers of either the GS450 or CB400N. Having owned an ancient Superdream I can't say that this was any great loss, patches of vibes afflicting the XS but not to the same extent as a CB400N with a worn balancer chain (which given the poor tensioner design was pretty much every one on the market). Even when the bars or pegs thrummed away it wasn't too intense and I very rarely ended up with dead feet or hands even after a 500 mile jaunt. I was a bit surprised, therefore, after taking the A-road to York after getting off the motorway near Doncaster, to find the pegs trying to come undone at 7000 to 8000 revs. It seemed like a good time to head for the camping site, about a mile east of York. I checked the valves over, the exhausts' a little too tight, and balanced the carbs. The vibes hadn't gone away, but the XS got me into York for a drinking session with some mates suddenly made at the camping site (they were on 350LC's and spent more time on one wheel than two). I made it back to the camping site without falling off, but then the front light blew. Dip beam still worked, so I reckoned it was the vibes and made a mental note to buy a spare bulb the next day. I wasn't too popular, some jerks had erected a similar tent on the other side of the bike. In my drunken state I wandered in there, let out a massive fart just before leaping on to the sleeping bag. This contained a young couple who were suitably enraged at this apparent attack but my mates came over and explained that I was a mental retard and a bout of fisticuffs was avoided. They gave me some nasty looks in the morning, though. Naturally, that trauma had put the light incident right out of my mind as I set off for Teeside, where I knew someone who'd put me up for the night. The vibration gradually spread right through the rev range until only 55mph in top represented a region of relative calmness. It was the longest 50 miles of my life, as the route seemed blocked up with caravans, weaving across the road at about 25mph. Once installed in my friend's house, I gave some thought to the engine's imminent demise over a couple of cans of Newcastle Brown. In the middle of Coronation Street it suddenly dawned on me that I should check the engine mounting bolts. Aha! One was completely missing, the others were loose. My friend had a shed full of bits and we soon found a bolt of the required length albeit of a smaller diameter. 'Torque it down with this,' my friend suggested, handing me a yard long bar to put over the end of the wrench. The next morning I was much relieved to find that the vibration had diminished to a tolerable level, although it wasn't as smooth as it'd been at the beginning of the trip. I was hoping to do the 200 miles along the east coast to Scotland in one go. A rather fierce gale howled in off the sea, leaving me banked into the wind at an extreme angle. It didn't seem safe to do more than 30mph and the strain on my arms began to tell. I was pretty relieved to hide out in Alnwick for a couple of hours until the wind died down. Even with the increased speed allowed by the diminution of the gale, I still didn't make it to Edinburgh before darkness fell. That was when I recalled that the main bulb had blown and the vibes decided to come back. At the best of times the XS doesn't have brilliant lights with dip only safe for 35mph cruising on unlit roads. Even then it's a great strain on the eyes for more than ten minutes. Three hours later I gave up, pulled off the road and slept rough for the night. My problems didn't end there. Fuel was flowing through the engine at a staggering 45mpg, which meant I ran dry way before I expected and ended up pushing the hack for three miles. The single front disc dragged all the way (it'd always needed too much attention for my liking) and I was tempted several times to dump the heap and hitch-hike for the rest of the holiday, but the thought of carrying all my gear dissuaded me. Fuelled up, vibrating like a pile-driver, we headed the remaining thirty miles to Edinburgh, where I decided that I needed a proper bed for the night. I'd tightened up the engine bolts again, but came to the conclusion that they were coming undone because of the vibes, rather than the buzzes being caused by their looseness. By the time we entered the great city of Edinburgh, the engine knocked away furiously and smoke poured out of the silencer. It was quite embarrassing to stop at junctions, the peds not sure if they should cover their ears or nose! With a sudden shudder and clanging noise they were spared the choice, the motor died a death and a ghastly silence ensued. That was the end of the XS400. I sold the seized bike to a Scottish breaker for eighty quid. Despite this pathetic ending, I think the Yamaha was a good bike. Were new or newish ones available then I would be very happy to buy one. The old ones available now are too worn. Eddie Jones
Return to Contents for Yam twins
---
Yamaha XS400
Oh no, not again. I thought I'd put all this aged secondhand junk behind me but times were hard. The Ford had gone, shortly followed by the CBR600 and the boat. That just left the house, with oversized debt collectors hounding me half to death despite the 120% mortgage, mattress on the floor and an ancient radio as my sole means of entertainment. I'd found an ill-paid job miles away and needed some wheels until I found a cheap, grotty bedsit nearby. Even these were way overpriced, courtesy of the massive subsidies from the DHSS. A mate of a mate had an XS400 for sale. Running, with a new MOT, it looked and sounded awful but for a hundred notes it was unlikely anything better would turn up. It was only after I handed the money over that I was informed it would only start with a push and was quite likely to conk out at junctions. Keep yer fit, lad, was the parting comment. Some people. The XS400 has a vertical twin engine without any balancers, evident the moment the 60,000 mile mill was pushed into life. Age had doubtless added a certain intensity to the buzzing, but it seemed to me a thoroughly evil manifestation of the machine's character that left my hands, feet and arse totally dead after fifteen minutes of hopping and skipping down the road. It was evident that the MOT was the result of bribery, forgery or a blind, deaf and dumb tester who was days off retirement and couldn't give a damn about the veracity of the test certificate. After nearly running off the road three times I soon learnt that the best way to go around corners was to keep the machine as upright as possible and lean off. This was a sight so hilarious that it caused an oncoming van to twitch off the road, although it was brightly painted in flower power apparel so maybe they were just on something psychedelic. F..king hippies, serves them right. No, I didn't really mean that, it was just that every time I rode the XS it left me in a thoroughly bad mood. I'm sure you'd be in the same state if a week before you'd been king of the road on a nearly new Honda CBR600. I was living in a house that was about to repossessed at any moment and working in a job that bored the stuffing out of me; in between those two horrors I thought I deserved a little bit of joy, re riding a motorcycle. The editor reckons that motorcycling pleasure is endemic to the breed, that kicks can be had on any old fifty quid hack with the possible exception of an NSU Quickly, but I suspect that five minutes on a wrecked XS would soon dissuade him of such lofty notions. Now, the starting procedure was enough to make a grown man cry. No need to piss around with chokes or ignition keys because they had long since been lost in the mists of burnt oil. First engage first gear, hold the clutch in and push back and forth to free the plates up. Then knock up to second, take a manful breath and heave against the sticking disc pads until the XS began to roll forward. The discs creaked, the chain gurgled and a knocking noise came from the engine where the ruined starter clutch tried to disengage itself. Push, push, push until my feet were pumping away like a quarter mile record holder. Then drop the clutch, leap on board and hope that it'd fire up. Hope that the leap on board didn't clash with the tank because when that happened it was like being booted in the balls and I threw myself off the bike, howling in pain, giving the laid out bastard a good kicking with my Doc Martens until the pain wilted under the violence. After a couple of weeks of this madness we came to a kind of accommodation, with the engine starting first push nine times out of ten. A great deal of care was needed until the motor warmed up, otherwise it'd just stall and I'd have to repeat the whole sorry procedure. After ten minutes of frantic throttle and clutch work it'd settle down to an unreliable tickover at 2000 revs. The engine was probably in desperate need of a new set of spark plugs, not to mention a full service, but it was such a thoroughly corroded heap of alloy that I knew any attempt to remove any component would just end in disaster, with snapped off spark plugs and bolts. The whole point with these kind of hacks is to ride 'em into the ground and then sell them for spares, not that there would be much left to salvage in this particular case. Once the engine was warmed I could proceed across town, fighting all the way with a gearbox that couldn't make up its mind if it had three, four, five or six speeds. In fact, I'm damned if I know how many gears were in the box, often ending up in such a tall gear that the motor threatened to stall until I slipped the clutch until it rattled. What spiffing fun. One advantage of the old hack was the lack of silencers, the downpipes having some baffles hammered into them. Even at a mere 2000 revs the earth trembled and everyone and their dog shook their fists at me as if I had any choice in the matter. I certainly didn't have to worry about peds stepping out in front of me or cars getting in the way. Just as well as the front disc brake rarely worked. It always made loud warning noises, as if it was about to fall apart, and would occasionally lock the wheel but most of the time I had to rely on jumping on the back brake lever, screaming and tugging on the tiller-like bars someone had thoughtfully fitted. The latter would've been serious trouble above 60mph but the last time the XS had seen such velocity was back in 1989 according to the mate of my mate when he'd hurtled down some steep Welsh mountains. The rolling wreck managed to get me back and forth to work without fail, a minor miracle given both the bike's state and my own mood that verged on the clinically depressed. One slight advantage of the XS, said he clutching at any available straw, was the totality of its awfulness meant I had no time to ponder my plight, the coming lost of home and a future with no prospects. I soon learnt the ways of the hack motorcyclist, an hitherto unnoticed species on all kinds of rotted cycles that tottered around the city. Not a day went by when I didn't have a conversation with some other outcast, swapping hints and stories of near death mixed with tales of miserly behaviour. The kick was to get a year's motorcycling for less than the cost of a car's road tax. I began to loiter in breakers, turn up at dealers demanding their old tyres (quite effective as they seemed in a hurry to remove me from their shining showrooms) and syphon off petrol from the more expensive cars. I have refrained from the more usual calling card, heaving a bag of sugar into the petrol tank as it seemed, in my new mood of frugality, like a waste of a perfectly good bag of sugar! After about three months of this anarchy, the debt collectors moved in for the kill, throwing me out into the street but turning their noses up at the XS. I'd become rather attached to the old bugger and when I relocated to a hostel about five minutes away from work I decided to keep the rat. Strange are the workings of the human brain but it kept me from descending right down to the level of the tramps and meths addicts. It made no sense to ride to work because by the time I'd started the bike I would be practically outside the door. The XS didn't take kindly to this neglect, becoming very reluctant to fire up of an evening. But once going we hopped around the town, the bike backfiring at inappropriate moments and I leering at inappropriate young girls. One screamed over the exhaust, an achievement that would've taxed your average fisher woman, that I was a dirty old man. I can only assume that the ape-hangers and vibes had ruined my posture. Oh well. After reading the adventures of a certain Al Culler in the UMG I decided that the answer to all my problems was a foreign excursion. Just go with the flow, not give a damn that I was armed with merely a few hundred notes and a rotted motorcycle. I jacked in my job, hid my stash of dosh in a money belt and pushed the XS down the lonely road to Dover. You know, the rotter knows were off on an adventure and has never run so well! Dave Flowers
Return to Contents for Yam twins
---
Yamaha XS250
I couldn't understand why the Yamaha XS250 was going so cheap. Looked almost as good as new, whirred away silkily and went better than a Superdream. The owner was evasive about his real reasons for the sale, only insisting that the bike was sold as seen. I went for the deal with my eyes open, knowing that a major fault might turn up but reassured that the price was less than the cost of the full set of newish consumables. Riding home I took it easy, worried that the frame might turn plastic or the wheels might fall off. But she was as steady as a train at 70mph, the engine appeared to urge me on to max out; the little vertical twin thrilled to the sound of its pistons breaking through the 10,000rpm barrier. The harder it was revved the better it sounded and felt. Typical rice-burner! A week went by with no problems. Confidence building, I speed tested on a deserted back road at six in the morning. 75 to 80mph without much effort but getting to 90mph was damn hard work, aerodynamic forces hammering the naked bike which had only 27 horses to call upon. Maybe less with 18 thou on the clock. The morning after that outing the bike played up like a youth with his fist hangover. Refused to start. The electric boot soon drained the somewhat meagre battery. After charging, I spent an hour working out on the kickstart. I tried a new set of spark plugs - they can be removed without touching the rest of the bike (try that on a watercooled four) but the threads were very dicey, easy to strip if you believed in the gorilla school of mechanics. The bike refused to start. I stalked off in disgust. The next day it started first kick. Christ, what a bastard. That wasn't the end of the battle, just the beginning. Three days later I had a race on A-roads with a youth on a KH250. Really thrashed the XS through its still slick box. I didn't win the race but burbled back to Canterbury with a light heart (I was still alive) only to have the engine stall dead just as the lights changed to green at a junction. I was in the way of a long queue of GTi types, the bike refusing to start again. Horns blared and fists were shook at me as if I'd knocked down half a dozen school kids rather than taking a few seconds to push the Yam into the gutter. Some people, they were going to roar away for a 100 yards before the next traffic jam! Stupid! I ended up pushing the bike the half mile to my house. Next morning it started again. After a bit of experimentation I realised that thrashing the bike caused starting problems. If I rode moderately there wasn't a problem! The stress was causing some component to temporarily break down. Or so I thought. After a month the starting went to pot regardless of how I rode the bike. It became as predictable as playing Russian Roulette. That almost made it easier to trace, although it was very irritating and made the bike totally impractical for the commuting unless I got up an hour earlier so I could take the bus if it didn't start and didn't mind being stranded at work with a bike that wouldn't go. I began by simplifying the wiring, basically a ignition circuit with its own switch in the bottom of the sidepanel. No difference. The coils were a possibility but the car coils I tried weren't any help at all. I persuaded a friend with an XS400 to donate his to the cause but no improvement in the starting. There was a fat blue spark at the plugs so that side of things looked okay. I turned my attention to the petrol tank, found a lot of gunge in its bottom. One of the carb floats was gummed up and the airfilter looked original, so was attacked with a screwdriver. Still no improvement. It was only when I checked the carb manifold that I found a tiny crack, a very common malaise on old Japanese engines. Okay that solved the starting problem. I went back to the old ignition circuit as it's useful to have a killswitch, lights and a horn. Damn, the poor starting came back! I had two problems not one! After rewiring the bike, all was back to normal but it had cost nearly two weeks of pissing around to solve it. Beware of these models, they suffer from poor ignition and carburation that can send the owner insane with frustration! I was lucky in the end, found a brand new set of carbs in a dealer's clearout sale - they made the engine seem like new! After three months I'd experienced all the XS had to offer, which ain't that much in these days of race replica and 100hp monsters. Good points were reasonable handling (on Sebac rear shocks), light mass and an ability to cruise at 80mph in perfect comfort. The seat left me perched somewhat above the petrol tank but was very supple, kept my bum pain free for 150 miles. The riding position was sensible but the tubular bars allowed it to be altered if necessary; I never bothered. Then I had a series of crashes for no good reason. It was the Michelin tyres going down to 2mm that was doing it. The lack of engine bars left the cases a bit scored and the ancillaries battered but no real damage. Not until we skidded off and hit the side of a car, both wheels plowing into the cage. The cast wheels were cracked! As it happens, I was beginning to become annoyed with the brakes, a single disc at each end. They were never like slamming into a brick wall and gave me a few moments until I'd become used to them. Time and mileage added up to seizing calipers and loads of delay in the wet. I took that opportunity to look for a more modern set, ending up with stuff off a GS450E. In fact, I ended up with a complete GS front end because the wheel wouldn't fit. The OE forks were sold off to some old chap who'd ridden his XS into the side of a bus - reckoned it had appeared out of nowhere! These additions made the XS better braked and handling but it was never really threatened by the power put out by the motor. The frame, shared as it was with the 110mph XS400, was well up to the job. I though the finish was impressive for a twelve year old bike until the bottom of the tank fell out due to rust! Petrol went everywhere as I freewheeled through the countryside, over my legs as well as the engine. Suddenly, whoosh, I had a fireball between my legs! I was thankful for the efficacy of the new brakes and the nearness of a pond into which I threw myself. My marital tackle was merely singed. Bloody motorcycles! I pushed the charred bike into a small village where there was a tiny garage. After the owner stopped laughing, we managed to bodge the bike back into life. That involved a half litre oil can filled with petrol strapped to the top of tank! Some artful welding at home revived the old tank but I was impotent for a couple of weeks. Further rotting was evidenced by both silencers taking the same moment to fall off. Rather inconvenient as no less than two cop cars appeared out of nowhere. I tried to explain what had happened but the buggers weren't interested, threatened to add riding a bike in a dangerous condition to the charge. One hooligan started pulling the seat off not satisfied until he'd wrenched it out of its bracket! By the time they'd cleared off, chortling away inanely, I was shaking so much that fixing the seat back on was more difficult than putting Araldite back in the tube...I ended up strapping it down with the good old bungees. That wasn't quite the end of the story, nearing home the seat shot off like a car-seeking missile. My long suffering marital tackle bounced several times on the frame rails! These problems add up. After six months and 8000 miles I was beginning to approach the Yamaha with fear in my heart! Then I thought things couldn't get any worse, could they? Well, yes they could. With about 28 thou on the dial the good old camchain rattles turned up. And I thought the maintenance chores were easy! The tensionser seemed stuck so a can of WD40 was emptied over it. Seemed to work but I figured it was time to move on before some heavy expenses persuaded me to throw the bike into the nearest skip. The bike was sold at a small profit and a GS450E bought as a replacement. These old Yamahas can be very finicky but they are fast and big enough for serious road use. Knowing what I now know I'd tend to give them a miss unless I was desperate for a cheap hack. Many people experience them as they progress up the motorcycle ladder. Adrian Coulson
Return to Contents for Yam twins
---
Yamaha XS250
The motorway seemed to go on forever. Relegated to the slow lane for most of the time, my only amusement came from a bit of footwork on the gearchange. Did I prefer the deep drone at 90mph in top, or the same speed with frenzied revs in a lower gear? How far could the 1982 machine be pushed? Until the vibes from the OHC twin tried to split the petrol tank in half. Whatever I did, it wouldn't go over 90mph, the 39,000 miles on the clock having diminished the power a little. Stability was better than stock - the old story of Girling shocks and stiffened springs, allied to an adequate frame with geometry inspired by Yamaha's experience on the track with those wailing RD strokers. Flickability was just a matter of a little muscular input. True, when a speeding artic came past it would cause the whole bike to flutter in the howling slipstream, but nothing a tight grip on the bars couldn't counter. But motorways were boring. That 90mph top speed meant I couldn't clear off into the distance, had to stay with the slower cages. In fact, I'd say this lack of top speed (which is also true for all the new 34hp bikes) was a bit dangerous, given the way the cages would leap all over the place - no way through them. I'd sort of go into a near coma after the first thirty minutes, suddenly waking up when a car tried to cut me up. Had to hammer the front disc and fight against the tendency of the bike to run slightly to the right. I tried to blast the bugger on the horn, but the squeak was lost to the roar of the air. The disc was always giving trouble. A hard work-out in the name of survival left it overheated, tended to rattle rather than work for the next ten miles! The lack of slots or holes in the disc meant dissipation of water in the wet didn't happen, even feathering the front brake didn't remove an excruciating delay. I often had to snap down through the gearbox to get some engine braking. Worked quite well but the effect on the chain was to send it loose; figure a life of less than 5000 miles and adjustments every other day! The main reason for this abuse was because some crazy designer specified a rear disc brake with a quick seize caliper. On one motorway trek this actually locked on like a Dobberman on a victim's nuts. It was almost molten by the time I'd screeched to a halt on the hard shoulder. The only way to get it off was to remove the wheel and disc, hammer away at the caliper with a rock. Managed to crack the disc, as well! By the way, the six spoke cast wheels were heavy enough to be made out of lead, but despite all this mass (or maybe because of it) can crack up where the spokes meet the hub. What do I expect if I go around whacking them with a bloody big rock? Oddly, given this treatment, it was the front that went rather than the back - they do tend to end up deep in corrosion, which doesn't help. They are common to a few other Yamaha models, available cheaply enough in breakers - but check very carefully! Back to the awful brakes. Pads didn't last for more than 5000 miles whichever make I tried. I retained the disc on the second wheel, by 30,000 miles it was so thin that it shrieked whenever I used the brake in anger. Again, spares were readily available. I would liked to have fitted some drums off something else, but at that time I'd also acquired an XJ750 that took up most of my time and attention, until its engine blew up in a big way. Sometimes, then, the XS was my main machine, other times it was just back-up to something larger and more exotic. When it was my only bike I lavished some tender loving care upon it, but when used as a second machine I tended to let it go. It didn't like neglect, coming out in loads of corrosion and sometimes refusing to start, as if lodging a protest at my indifference. XS250's are a bit infamous for difficult starting but this can largely be avoided by removing the cut-out switches, rewiring the ignition circuit, and fitting new spark plugs every 2500 miles. The latter crucial, as well as rubber HT caps, but at least the spark plugs can be changed without removing any chassis components. If it still doesn't start easily, and the spark's okay, then it's probably one of those bikes that are too finicky to be taken seriously. A good test is to take the bike for a jet-wash before buying it, if it becomes recalcitrant, chances are there will be trouble further down the line. One other area of potential trouble's the carbs. Sometimes they end up full of gunge, other times it's the petrol tank that has started rusting from the inside out. Even something as simple as a clogged air vent in the cap can cause a fit of reluctant starting. Mine has always been okay as long as I didn't neglect it but I know one guy who had endless starting problems. The bike really sings on the back roads. It was always a blessed relief to get off the motorway and find some swevery. With the suspension mod's, it fair snaps along country roads and snaking A-roads. The only limitation's ground clearance, and when the prongs are chopped off the stand it then goes squirmy when the tyres are taken over on to their edge - enough warning to make sure that you know when to back off. Spirited riding, again, causes the useless discs to fade away to nothing. Meaning, I ended up so far over I felt my kneecaps were threatened! This is quite an achievement on a bike with large, thin tyres that have about a tenth of the grip of the serious replicas - and last five times as long! I felt that I was close to death at times but it was with one hell of a sense of achievement that I pulled the bike back up, panting with a wild heart beat and adrenaline rush! This is all part of the bike's versatility. 60 to 70mpg matched to a good turn of speed adds up to a quite useful device. Its modern equivalent's the Kawasaki GPz305, though that bike has a reputation for blowing up in a big way. The XS250 can follow a similar demise if regular oil changes and valve sessions are neglected, though it does take massive neglect to get the crankshaft knocking. I know quite a few owners - most of them have got 50,000 miles out of the motor, but from then on built-in obsolescence rules. By the time sixty thou's on the clock just about everything's ruined. Simple things become major traumas. Just changing the wheel bearings, for instance, can end up with the hub cracking up, and I know someone who ruined the frame trying to get the swinging arm out! The whole bike seems to corrode solidly. Therefore, it's worth being wary of the real rats offered for a couple of hundred quid. You may find out that it's just a pile of scrap! Better to pay £500 to £1000 for something in nice nick with relatively low mileage. Motorways apart, the XS250 will do most things extremely well and in these days of retro chic they even look quite neat. Alan Rowe
Return to Contents for Yam twins
---
Yamaha XS400 DOHC
At first glance it might seem mad to sell a hot GPz400 and buy a relatively staid XS400. But the XS was immaculate and cheap; had nothing to do with the earlier sad twin, this one the business with DOHC's and much superior spine frame. Surprisingly, the '83 Yamaha was only short by 3 horses compared to the Kawasaki, with 45hp at 9500rpm and seemed to have a touch more torque at lower revs. It also had a 25lb weight advantage at 375lbs, and with its narrower aspect didn't lose out on top speed acceleration, although ultimately it ran out of steam at 115 rather than 120mph. For such an old motorcycle its condition was most surprising (this was 1994), its low price due to everyone thinking it was the awful earlier model and not bothering to turn up. A couple of bikes were sold by the official importers who for unknown reasons then dropped the range. Mine came via the grey import circuit, with just one UK owner who had done 2000 miles in a year. Excellent value. The Yam required a lot less throttle madness than the Kawasaki but to really shift still needed to be wound up to about eleven grand through the somewhat finicky six speed gearbox. Fourth gear was elusive, catching in a grinding semi-neutral or slamming straight into fifth. The gap between third and fifth was huge, a massive drop in revs resulting if I tried to avoid fourth. New oil helped a little but it was a chronic fault, though one that didn't get any worse. I had noticed it in the test run but it all being a bit new to me assumed it was down to a nervous foot on my part. Just to make life interesting, the clutch also slammed the bike forward when let out, needing a bit of work on the front discs to stop the bike going into a giant kangaroo leap. This was easy enough to learn but appeared to have a serious effect on the longevity of the brake pads - 6000 miles a set. The pads are similar to the XZ550, if you ever have to order a set. At least the back end's served by a trouble free drum brake. Rear discs on moderate speedsters are just fashion accessories, not worth all the trouble they cause with gummed up pads and seized calipers. Get rid of them! I'm going into a rant here because a little bit of winter riding did in the front calipers. Junk, junk, junk. Perhaps they don't have salt and acid rain in Japan. I slung the bike to the back of the garage in disgust - well, I wanted an excuse to avoid the cold, wet and icy weather. Finding cheap replacements was impossible! The couple of grey importers I phoned up quoted over a hundred notes for two sets of calipers. How to turn a moderate biker into a spitting, snarling madman! Nothing for it but to persuade the old ones to come apart. New seals, sliders and pads were cheaper than a night out in Wrexham. I enjoyed the reassembly, nice clean parts but when I went to bolt the caliper to the forks one of the threads stripped! Crap Jap alloy, comes up again and again whenever you want to do some serious work. Drilled through the boss, used the thread and a nut and Araldite. Only problem, if I ever need to take it out again, I'll have to drill the bolt out! Spring came in with a bang. Weather like summer! Out on the bike, big smile, laughed my head off at all the poor cagers who didn't have a clue in the massive traffic jams. Then a bit of rain. They were laughing now, the XS misfiring and cutting out. Barking away like a dog with a broken leg. Nasty piece of shit, I thought. I pulled into a fuel station, bought some WD40. Sprayed the plug caps, some plastic crap. Okay, no more misfiring for five miles then it was back again. More WD40, no more misfiring for ten miles. Then the sun shone and my spirits soared. A few weeks later the WD40 didn't work any more. Screaming abuse at the bike had absolutely no effect. I ended up buying XJ550 coils, leads and caps. No more misfiring - for a while. Then it came back again, this time in the dry as well. I thought, do I want to check out the carbs? No, I didn't. Something simple for me to play with? A mate suggested checking the fuel tank cap for a clear air vent. It was clogged up. The bike ran like a dream after it was cleaned out. Any twelve year old bike is going to give minor hassles. It's like a game in which you have to suss the problems before it has you off or raining hammer blows down on the machine. The next little hassle was the exhaust's cross-pipe becoming full of holes (with 13000 miles up). The XS runs very cleanly when all is well with the mill, but it seems if anything goes a little out of tune then it turns as irascible as the XZ550 - remember that nasty vee-twin? Best not to! The useful torque between 4000 and 7000 revs now did a runner, the exhaust going into its barking routine. Backfiring on the overrun was hilarious, guaranteed to have you shot on sight in Belfast. Old codgers were taken back to their war years, going into a defensive posture and doubtless overloading the NHS's mental facilities with stories of armed insurrection in the shopping precinct. A mate was persuaded to point his welding gun at it and the moron vaporized the wafer thin steel so there was nothing left. My panic subsided when he suggested welding over the open sides of the downpipes. Better than paying two hundred quid for a replacement. The result was better than before but not perfect, with a bit of a hole in the powerband between 6000 and 7000 revs. This was okay as it made the punch at the latter revs all the more prominent and acceleration appeared all the harsher. The exhaust note was a touch louder, but judging by the rattles, caused as much by fast decaying baffles as the modified exhaust. The feeling that the bike was wearing away under me was emphasized by the way all the chassis bearings went at 17000 miles. Someone was playing a nasty joke on me, or something. The bike was never the most brilliant handler in the world, the front end geometry making it a bit vague in the corners. But when the bearings went, the bike turned into a wild speed wobbler. Replacement head, swinging arm and wheel bearings fixed it. The rear end's controlled by a mono-track arrangement, inherited from the old TR-1 vee-twin, by the look of it. Their bearings never wore out but it didn't seem to have anything on offer that was better than a decent pair of shocks. Like rear discs, these single shock arrangements are much overrated on ordinary bikes and they can be very troublesome. A rear shock costs a ridiculous two hundred quid; even breakers want fifty sovs for a suitable replacement. It was a bit on the soft side but nowhere near as bad as the stock GPz400. I would have much preferred the XS400's engine in the GP's chassis (with the suspension mods) but I don't suppose the two would mate together well or that the hassle would really be worth it. The XS had some kind of balancer system that made it smooth but not to the extent of the Kawasaki, although I soon became used to the background buzz. The smoothest part of the range was 5000 to 9500 revs, which gave good cruising options in top. Of the two bikes, I think I preferred the four to the twin but if you want a slightly more relaxed time the XS is superior. With bikes of this age, though, it's all down to what turns up, its condition and price. You can't be too choosy! I sold the XS after a year for £1375, so I came out a little ahead of the game on that one. Latest bike is a ZXR400, an altogether different tryst! Pete Maine
Return to Contents for Yam twins